Prince Carl Philip and Princess Sofia Visit Capri
This past weekend, Prince Carl Philip, Princess Sofia, and their two sons jetted off to Capri to attend Carolina Pihl's and Gunnar Eliassen.
Ahead of the wedding, Princess Carl Philip and Princess Sofia received a tour of Villa San Michele, Axel Munthe's house, in Anacapri. Axel Munthe was a Swedish Physician who went on to serve as the personal physician of Queen Victoria of Baden and the royal family during her lifetime. The Queen spent many months of the year in Capri at Dr. Munthe's advice, as she suffered from bronchitis and possibly tuberculosis and the colder climates of Sweden were thought not to be good for her.
Queen Victoria spent most mornings at Dr. Munthe's house where they would walk around the island together. Upon the doctor's death, he turned the house over to the Swedish nation, and it is now maintained by a Swedish foundation. The house has been turned into a museum which King Carl XVI Gustaf and Queen Silvia visited in 1997 in connection of its 100 year anniversary.
For the wedding, Princess Sofia served as a bridesmaid while her two sons were also in the wedding party. The wedding was held at Faro di Punta Carena along the waters edge. Photos of the family at the wedding can be seen here.
For this joyous occasion, Princess Sofia opted for a dramatic (and very affordable!) dress from ASOS which she paired with her Maje Fifi sandals and new Susan Szatmary clutch bag. She kept her jewels minimal with her favorite Engelbert Stockholm hoops and sign necklaces and on her wrist were her Ole Lynggaard bracelets.
The following day, the wedding festivities continued with lunch and a boat outing. Princess Sofia was seen strolling the streets and enjoying an ice cream cone with some friends. Photos can be seen here.
For this occasion, Princess Sofia opted for an off-the-shoulder dress from By Malina and her Theory Whitney bag. She kept her everyday jewelry with her Engelbert necklace and Ole Lynggaard bracelets. She accessorized with a pink straw fedora seen last at a polo match in Florida earlier this year.
The wedding festivities closed with one last dinner.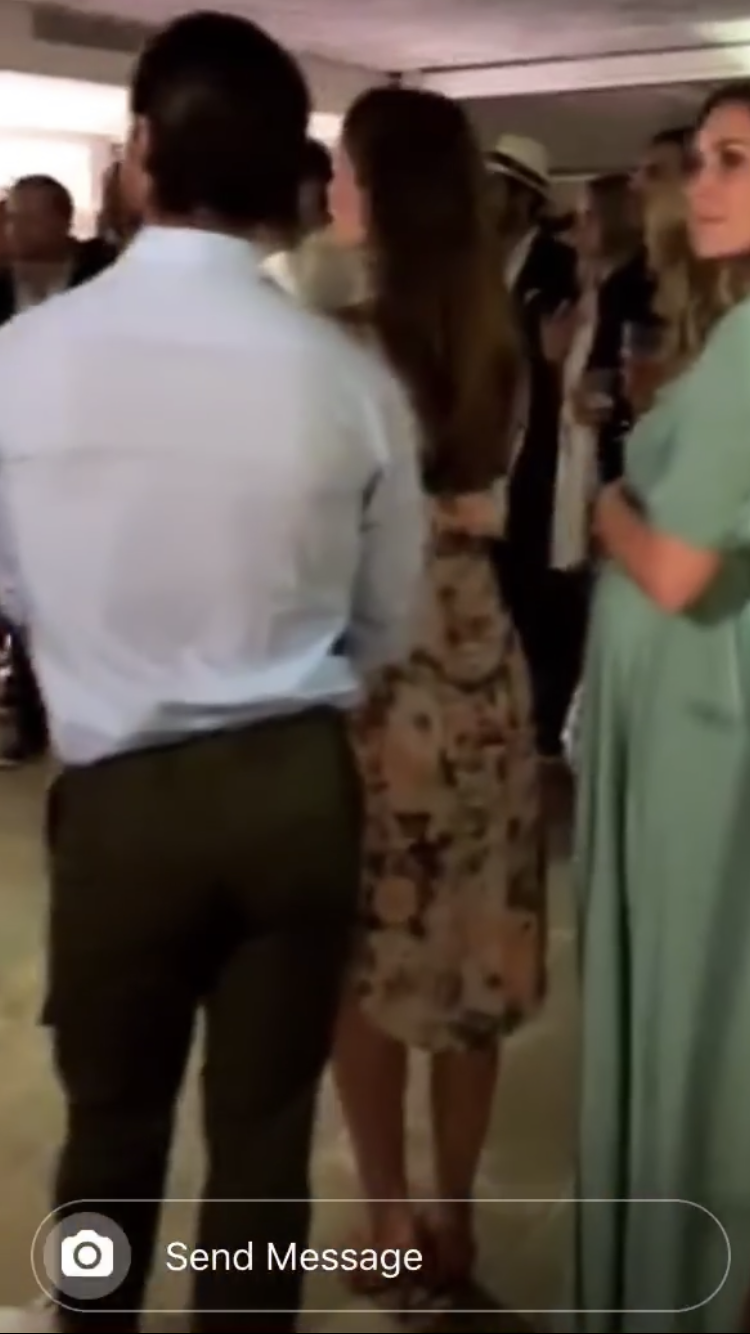 For this dinner, Princess Sofia could be seen in a floral dress from By Malina. While I am unsure which style the dress I instantly recognized the Sandy Blooms floral print.
The family was seen enjoying one final day in Capri on September 22nd with friends. Princess Sofia wore a new pair of By Malina trousers with her Superga sneakers. Photos can be seen here.